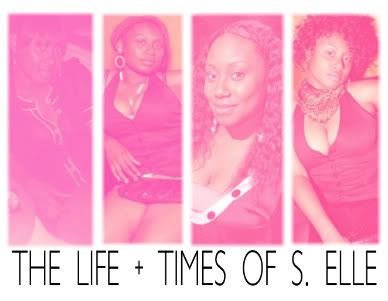 Two days before I turned 23 Zeus called me and asked me to come over. I have never gotten ready so fast. I took the train all the way into his neck of the woods, walked those 4 or 5 blocks to his house. I haven't been over here in so long. We talked, he showed me some new shirts he bought, we looked at pics from my vacay and we watched a movie. Damn I miss his company. We ended up having sex that night. The next morning we kicked it, and when it was time to get in the shower I discovered he never moved my pink washcloth from where I last left it, interesting.
As the clock struck 12, the birthday wishes began. Funny how Pretty was the very first text I received. My sister called me 9 minutes after and among the other texts and im's, Zeus was the next person that called me. For what its worth, I was so flattered at him calling me rather than texting or im'ing. That day as the rest of the birthday wishes poured in, I decided to scroll through my buddy list. I came across Zeus' away message "Applebees"...really Applebees on my birthday and you're not going to see me all day. His response: "come on shainy, don't act like that."
That night at my get together, I was fully aware that Zeus nor Pretty was gonna come. I had a great time in spite of and I got twisted. When I got home Zeus called me, I think he took advantage of my drunken state. He questioned the shit out of me! He managed to get a few things out of me, but nothing that seemed to alter what we had. The next day the girls and I decided to hang out in LES for a while. After our falafels we came across Subway and his friends. They provided some much needed laughs before we head home. Subway was allover me, I thought it was the liquor, but something told me he was serious. Subway and I met a year ago, we went on one date, but because his schedule was so crazy, we just always ran into each other at events. With each run in we always acted like old flames crossing paths. That night we entertained the thought of him coming back to my place. He seemed with it, I was a little apprehensive about it though. Tee egged me on and made sure I didn't back out of it. She said I made him wait a year and that was long enough! I didn't know what to expect when he finally reached my house. To my surprise Subway gave me the best head I have ever gotten in my life. As we would say he "slutted himself out." He slept until the next afternoon, and he was off back to his busy busy schedule. I feel like one of the reasons we've maintained our friendship for as long as we have is because I don't get all groupie and treat him any different so I really can't say I feel any kind of way. I do know this was some kind of way to bring in 23.