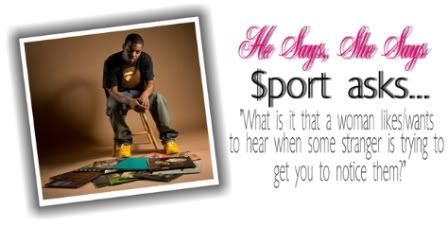 Super Sport Asks…
As much shit as I talk, I'm actually really shy, especially when it comes to meeting new girls. I always seem to see nice-looking girls, but can't really bring myself to say anything, lol...So I said all that to ask, what is it that a woman likes/wants to hear when some stranger is trying to get you to notice them? I already know about the whole no 'aye-baby-yo-ma-catcalling' rule...but even for yourself, what do YOU like to hear from a new kid?:-)

Teneille Said…
So you know we have a rule at B+C to "Keep It All The Way Real" all the time right? I'm partial to this question because everyone knows I HATE all forms of being romantically approached by a stranger. Whether a guy is completely polite or outright hilarious (because I have heard it all), I'm just turned off altogether by these kinds of meetings. Mainly for me, I need references. It's a huge risk getting to know someone who you have no background information on except what they've told you about themselves. If there's no possible way I'd be able to pull references on you then I need to notice your routine before I decide to give you a chance. How do I know this isn't your only nice outfit? How do I know you aren't some disgusting serial "bitch-bagger"? Once I have your references, then technically you're not a stranger anymore (which benefits us both when you think about it). Personally, I need to feel you worked to get my attention. Giving you my number with no real grasp on if you're even worth my time is too easy, and it's free. It's the equivalent of going on a first date to the park. It's cute but it's, free. So given I'm not the right one to answer this question without complete bias, I asked Cee…

Cece said…
Less is more. If a situation feels like it's forced then automatically I'm becoming defensive. From my perspective, I feel like it's more successful if there's a mutual connection. If a lady is feeling you she would let you know. Whether it be a faint smile, a small glance or a full on stare, she will let you know. Now, if I'm trying my best to not make any kind of eye contact with you, chances are I want you to stay the hell out of my face. If my behavior says otherwise, then I'm hoping you do something natural to the circumstances. But, if you already have a game plan going then drop it because you have just bought yourself a one way ticket to nowhere.